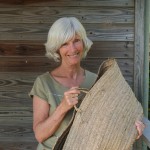 "My favourite shopping bag is this basket which I've had for over twenty years! My brother bought it on the island of Lamu, off the North coast of Kenya. The basket travelled with him through Africa, Egypt, Israel, London and Bali, each time arriving on the baggage carousel with all his belongings intact. Even though it couldn't be closed, he never lost a thing much to the bemusement of other travellers and finally Australian customs officers. It shows you how much things have changed in the meantime.
He gave it to me on his return as a Christmas present, thinking I would appreciate it and use it. I take my basket to the Farmers' Market each week. I love its lightness and strength, and the shape that so perfectly carries my greens and other squashables.
It's woven in a circular patter n from some kind of grass, and is obviously much stronger than it appears because it's still going. I feel a connection with the person who made it and their community on a faraway island, and to my brother, which is a nice feeling as I carry my basket round the market".